Your Personal Cloud for a Better Social Life
Ever wanted to share drive space with a certain community in your social circle? Wouldn't it be great if they can easily access the media you're sharing via their own mobile devices? Now you can with ZyXEL NAS326: instantly share hundreds of pictures and video clips you took with friends and family on vacations with the ZyXEL Drive mobile app!
Need to access your memorable moments of your social groups away from home? The ZyXEL Drive mobile app enables you to freely access files on the ZyXEL NAS326 whenever and wherever you are—as long as you're connected to the Internet.
Fast performance for productivity
The ZyXEL NAS326 is equipped with a high performance processor to provide up to 105 MB/sec reading data 105 MB/sec in writing data. Instantly retrieve data from your mobile devices, backup files, and stream UHD 4K video contents without performance stutter.

Start using ZyXEL NAS instantly with help from FindMe
With ZyXEL FindMe, it takes only four easy steps to discover your NAS on the home network and to get you in control within 15 seconds! There's no need to install a NAS utility and you save ten minutes performing the otherwise very complicated installation process!

Instantly access and share your files wherever you are
The ZyXEL Drive mobile app gives you the freedom to access and share files from your NAS326 wherever you are. Rest assured that the files are securely shared through private peer-to-peer (P2P) connections to only those with your permission.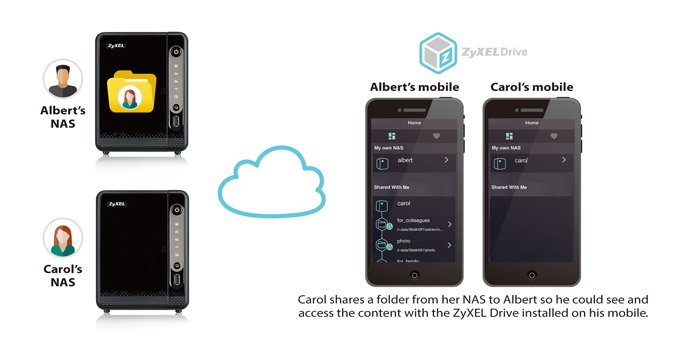 Create a shared cloud space for people without NAS
Provide your cloud space for your friends or family members when you share a folder from ZyXEL NAS326 with the ZyXEL Drive mobile app. Your friends and family members don't need to purchase an additional NAS—just install the ZyXEL Drive mobile app on their favorite mobile devices.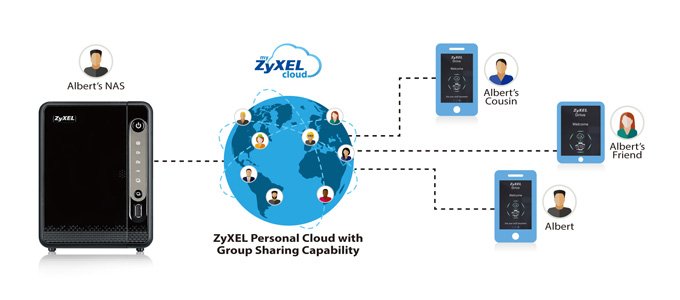 Protecting your data from accidents
The ZyXEL NAS326 comes with RAID 1 capability that clone contents from one drive to another; in case one of the drives is damaged or corrupted, you still have another drive to restore or use from.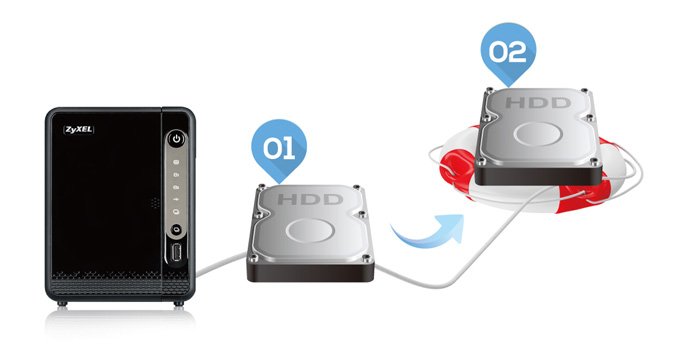 Get up and running quickly with our easy-to-use interface
ZyXEL NSM 5.1 intelligent desktop provides a rich feature set of tools with an easy-to-understand GUI design to get your things done quickly. The multitasking capability through multi-window interface enables you to quickly get applications up and running.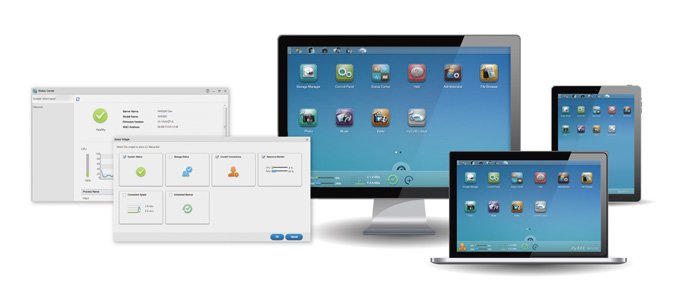 Check NAS while you're away
Do you have several ZyXEL NAS and want to quickly check their health status? Get an instant glance of their health status by visiting the myZyXELcloud Web portal—even you're away from home, or you can also install it in someone's home. With the myZyXELcloud Web portal, you get a clear dashboard to see if anything needs attention.

Stream multimedia contents to Big TV
Bring your favorite multimedia files on the ZyXEL NAS326 to the big screen. With ZyXEL zCloud app v2.2, you can play your favorite videos, music or photos on the big screen with TV streaming devices such as Apple TV, Google Chromecast, Roku 3, Amazon Fire TV; or with Samsung and LG Smart TV.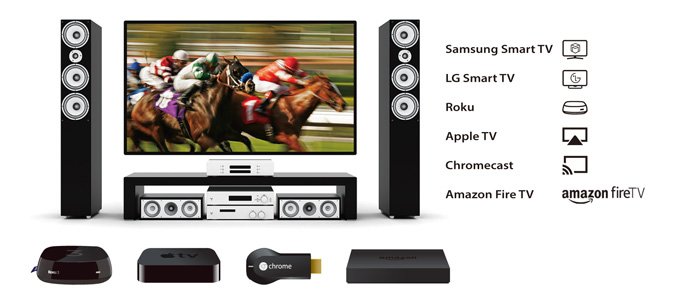 More Features